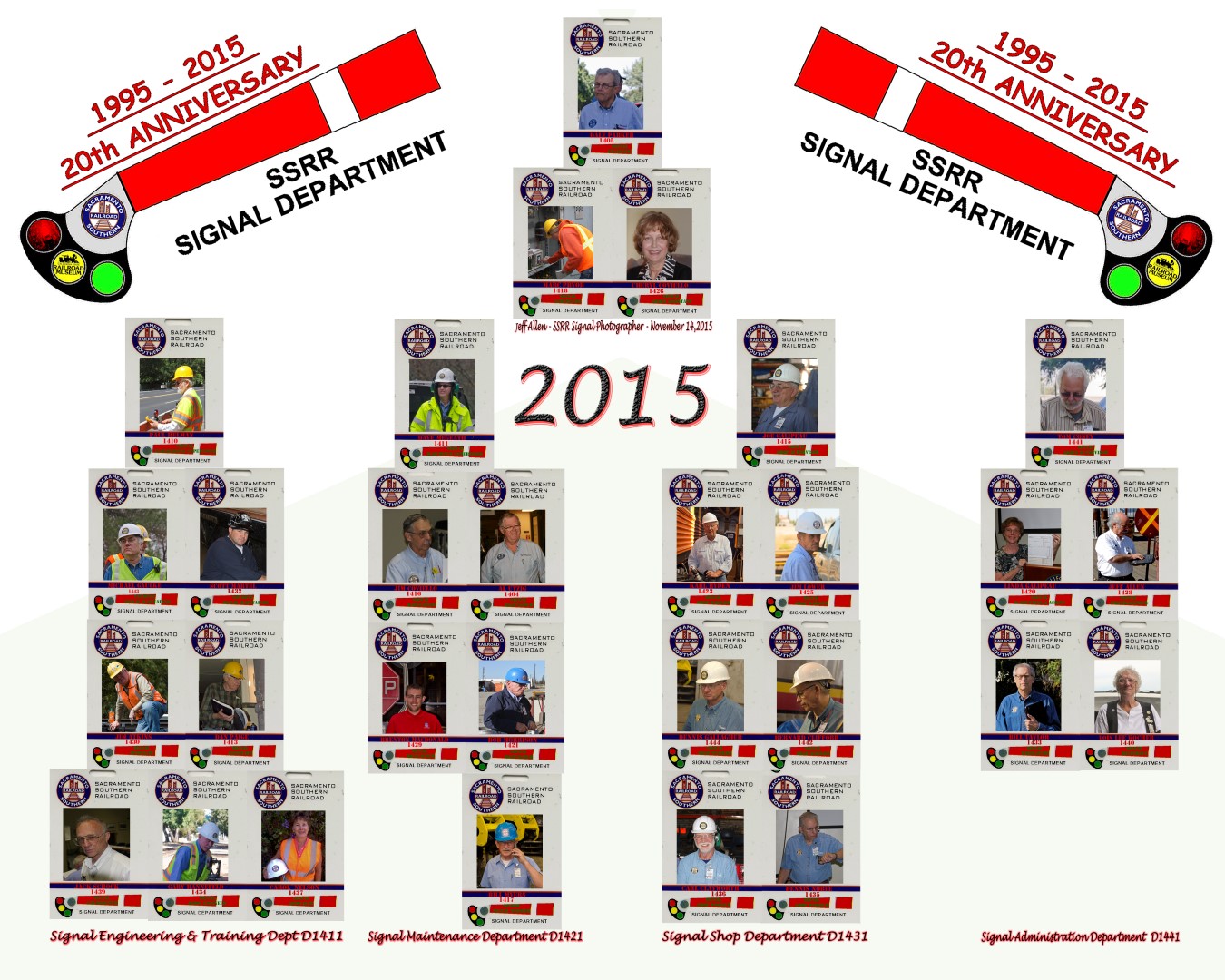 (Note: "Click" image for larger version. Click "+" symbol over picture to enlarge. Use scroll bars on bottom and right of window to move around the larger image.)
---
The Signal Department
The Sacramento Southern Railroad Signal Department consists of a volunteer group of men and women who maintain the railroad's various Grade Crossing Warning Systems and repair and restore signal equipment. The department is managed by the Signal Engineer and four Supervisors who manage four departments: Engineering and Training, Signal Maintenance, Signal Shop and Administration. The primary responsibility of the department is to conduct all the necessary tests and inspections per FRA (Federal Railroad Administration) rules and regulations and make any necessary repairs and revisions to the railroad's signal facilities. Work on the right of way is done by trained and certified Signal Maintainers. The offices and shop of the Signal Department are located in the over-100-year-old Southern Pacific Boiler Shop located in the old Southern Pacific Rail Yard in downtown Sacramento. In the Signal Shop, Signal Shop Workers repair and maintain an inventory of spare parts and equipment necessary to maintain the railroad's signal installations. The shop workers also are involved in restoration of old signal equipment for use on the railroad or for display in the museum. Other department crew members support the Maintenance and Shop Departments by doing engineering, government interfacing, CAD drafting, accounting, training, photography, administrative and various other types of work. The volunteers of the Signal Department are a group of skilled individuals, brought together as friends by their common interests, that enjoy the complexity and challenge of the signal work, the camaraderie of working together and the satisfaction of doing something for others.
---
Sacramento Southern Railroad
The Sacramento Southern Railroad is the working railroad associated with the California State Railroad Museum located in "Old Town" Sacramento, California. It is operated and maintained by a large volunteer crew, most of which are also docents in the museum. The museum operates the railroad to help visitors understand more about the history of the railroads of California and how the railroads effected the growth of the state.
The Sacramento Southern Railroad operates diesel-electric powered excursion passenger trains with vintage 1920 era cars on weekends during the mild climate season in Sacramento April through September. The Sacramento Southern Railroad also operates special trains such as the "Spookomotive" train in October and the Polar Express train between Thanksgiving and Christmas and the Emigrant Train Program when school is in session.
---
About this Web Site
This Web Site is for the use of the Signal Department Volunteers and their friends. There is no Sacramento Southern Railroad proprietary information on this Web Site and all information found on it is either developed by the Volunteers or is available to the public at large through other normal means of communication.
---
Contact Information
The Sacramento Southern Railroad Signal Department Volunteers can be contacted through the following email address:
---
California State Railroad Museum
The following link will take you to the Web Site of the California State Railroad Museum:

---
Contact the Webmaster
For any questions regarding this website's content, updates, or design, please contact the Signal Department Volunteers Webmaster at the following email address:
---
Check Your Signal Volunteer Email Account
Access your SSRR Signal Webmail here: